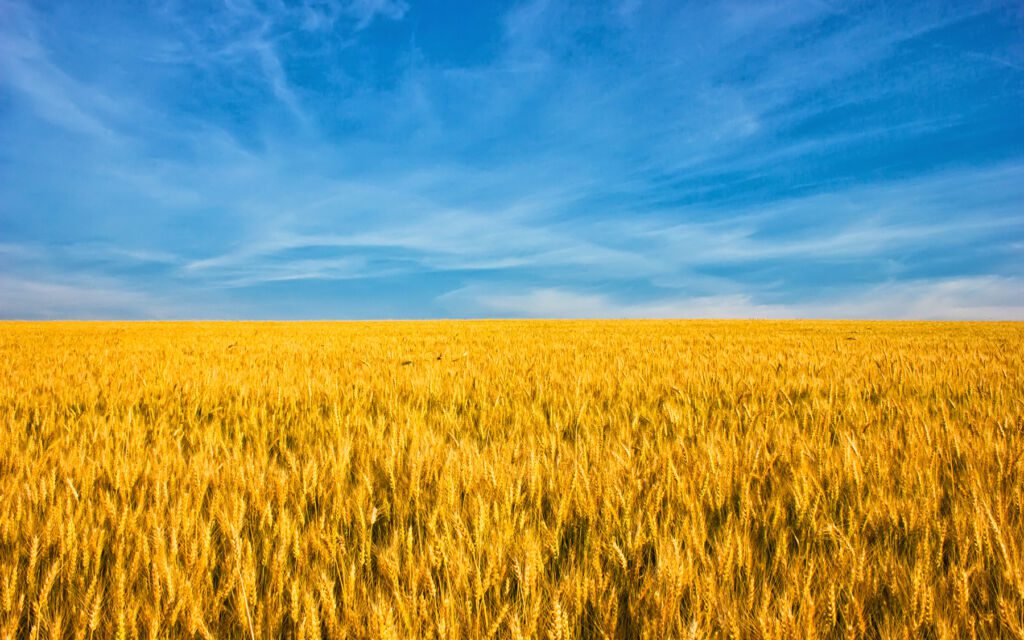 Introduction
The war in Ukraine has been shocking. Most of us have been thinking about the war's impact on the people of Ukraine rather than the effect on our businesses. But as the war grinds on with no end in sight, many of our customers in the food sector are starting to grapple with disruptions to their supply chains and how to maintain the production and distribution of food. The impact is already being felt in the form of higher prices and shortages for agricultural commodities. These effects will last long after the war ends. In this post, we outline what we are hearing from our customers about the impact of the war and how they plan to manage their food supply chains in the face of great uncertainty.
Short Term: Price Increases for Grains, Edible Oils, Fertilizer, and Transportation
Prior to the February 24 Russian invasion of Ukraine, the food sector was already suffering from high prices for many commodities because of extreme weather and pandemic-related supply chain issues. For instance, wheat prices reached multi-year highs in 2021 attributable to heat and drought in the U.S. and Canada. Labor shortages resulting from the latest COVID-19 surge were disrupting food production, transportation, and retail operations. By the end of 2021, food inflation had climbed to levels not seen in 40 years.
The war is taking shortages and price inflation to a new level. Together, Russia and Ukraine account for a significant share of global exports of certain commodities such as wheat, corn, barley, sunflower oil, and fertilizer, as indicated in the chart below. Russian exports have been disrupted primarily by sanctions, while Ukrainian exports have been disrupted by the war's direct impact on growing, harvesting, and transporting agricultural products. The rise in the price of oil is increasing food transportation costs, causing further price increases across a wide range of food products. All of these factors are having a direct and immediate impact on the food supply chain in the U.S. and throughout the world.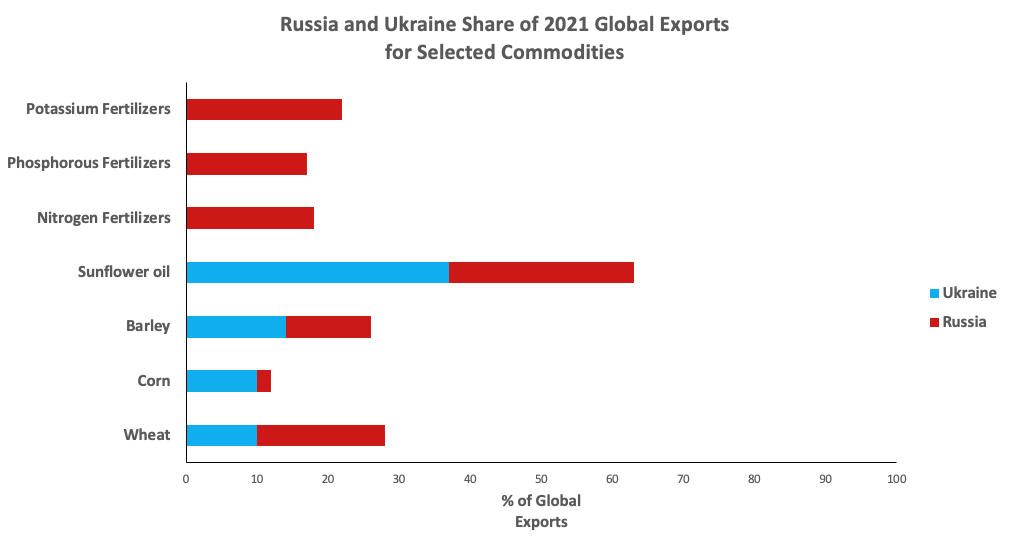 Long Term: More Widespread Effects, Extending Beyond the End of the War
In addition to causing the above disruptions in the immediate term, the Ukraine war will have longer-term impacts on a wider range of products, even if the war ends soon. Because of the long lead times for growing crops, the war's impact today on planting operations will be felt months from now, even if the war ends tomorrow. Likewise, increases in prices for grains used for animal feed will increase the future price of meats and dairy products. Other products that use grain or edible oils as an input will be similarly affected.
Not only is Russia a leading producer of fertilizer, but also a leading producer of fertilizer feedstocks, such as ammonia, potash, urea, and natural gas, used for fertilizer production in other countries. Thus, the disruption to the fertilizer supply will be larger than implied by Russia's share of the fertilizer market. The resulting price hikes will increase the long-term price of a large range of agricultural products and potentially reduce output if growers respond to price hikes by decreasing the amount of fertilizer they use.
Impact on the U.S. Food Sector
Lower- and middle-income countries such as Egypt and Turkey that rely on Russia and Ukraine for grain imports will be hit the hardest by market disruptions. But because agricultural products and fertilizer are largely fungible, the shortages caused by the war will affect supply and prices globally. While the U.S. is not expected to face chronic shortages, there could be periodic disruptions. Prices are likely to remain high and could fluctuate unpredictably.
The greatest challenge for U.S. food companies will be managing the uncertainty. We have no idea how long the war will last, to what extent sanctions will remain in force, and to what extent Russia will be able to circumvent them. The possibility of ongoing outbreaks of COVID-19 further complicates the picture. On the demand side, we don't know how buyers will respond to shortages and price increases. Uncertainty about the overall economy further clouds our visibility into future demand.
How Food Companies Can Prepare Their Supply Chains for an Uncertain Future
The war in Ukraine has added to the disruptions and uncertainty caused by the COVID-19. As a result of the pandemic, many companies had started to take steps to build more resilient and agile supply chains to deal with future disruptions. The war is accelerating this activity. In discussing the current environment with customers, we've observed companies planning to take the following steps to ensure their supply chains can run as smoothly as possible:
Understand and Monitor Risk Across Your End-to-End Supply Chain. Most companies have a good handle on their tier 1 suppliers and where the points of vulnerability are – where and which materials are susceptible to supply interruptions or price spikes. But many companies do not have a good understanding of the risks with their tier 2 suppliers – those that supply raw materials to their tier 1 suppliers (often co-packers). To properly manage risk, you need to know where you are vulnerable across your entire end-to-end supply chain.
Work More Closely with Suppliers. To minimize hiccups in your supply chain, you should collaborate more with key suppliers so that your plans reflect the most accurate information. Such collaboration includes coordinating on forecasts, inventory levels, and replenishment plans. It also includes discussing risks and gaining early visibility to potential disruptions.
Update Contingency Plans. For the key risks you have identified, you need to have a plan B – a playbook for what to do if there is a disruption, such as a price surge for a raw material. Many companies have such plans, but it's time to dust them off and make sure they adequately address current market risks.
Activate Alternate Sources of Supply. To minimize the impact of shortages and price hikes, you should source from multiple vendors in multiple geographies to diversify your risk. While agricultural commodities are generally fungible, product availability and pricing may exhibit anomalies as the market adjusts to disruptions. Diversifying vendors increases the chance that you will be able to find adequate supply.
Develop the Ability to Use Substitute Ingredients. Many manufacturers already do this, and now everybody should for raw materials that are at high risk. The ability to quickly swap out ingredients is critical for having a resilient supply chain. Many manufacturers have already found substitute oils for sunflower oil.
Employ Financial Hedging Strategies. Again, many manufacturers already do this to lock in future prices for critical ingredients for which there are no good substitutes. More are planning to in light of the increased risk in the supply chain.
Update Target Inventory Levels and Other Planning Parameters. Many companies have been increasing safety stock targets since the beginning of the pandemic. But that's not enough; you need to update other affected supply planning parameters, such as vendor lead times, so you can develop realistic supply plans.
Forecast Using New Technologies Such as Artificial Intelligence and Machine Learning. Demand is going to be more volatile in the current environment, as customers decrease purchases of some products because of high prices, and as they substitute one item for another. Forecasting in this environment is difficult because historic demand patterns are of limited use for predicting future demand. New technologies such as artificial intelligence and machine learning can improve forecast accuracy over traditional time series methods because they are generally better at detecting changes in demand behavior.
Closely Monitor Supply and Demand. As a result of the war, both supply and demand are going to be more volatile than normal. Accordingly, you should more closely monitor day to day changes, which may require new sources of data and new software systems. By more closely keeping tabs on supply and demand, you can make adjustments such as bringing forward purchase orders or transshipping inventory from one warehouse to another in order to keep products moving.
Mature Your S&OP Process. Most companies have some type of sales and operations planning (S&OP) process, but it's often buried in the supply chain organization and does not sufficiently engage sales, marketing, and finance teams. In the current environment, S&OP needs to be treated as a strategic cross-functional management process that is critical for meeting company financial goals. Some of our customers are moving in this direction and have even switched from the traditional monthly planning cycle to a weekly one.
Prepare for Cyber Attacks. This last item applies beyond the supply chain, but it belongs in this list nevertheless. Early in the Ukraine war there were predictions of Russian cyber attacks aimed at the U.S. This hasn't happened yet, but the risk is still there. Modern supply chains rely on a wide variety of IT systems, and a cyber attack targeting U.S. businesses could have a devastating effect on supply chains. All companies should harden IT systems and prepare contingency plans for such an attack.
Conclusion
The Ukraine war combined with the ongoing pandemic have brought an unprecedented level of disruption and uncertainty to the global food supply chain. By improving supply chain processes and systems, food companies can minimize the risk to their supply chains and maintain food production and distribution to the greatest extent possible.
To Learn More
If you'd like to discuss how New Horizon can help your company develop a more agile and resilient supply chain, please contact us – we'd love to talk.