Challenge: How to Quantify Supply Chain Disruption
The term "supply chain disruption" has entered our collective vocabulary in a way few could have imagined three years ago. But there hasn't been a standard way of quantifying the level of disruption. Well, now there is one, thanks to the folks at the Federal Reserve Bank of New York. Earlier in the year, a group of economists there (Gianluca Benigno, Julian di Giovanni, Jan J.J. Groen, and Adam Noble) put together the Global Supply Chain Pressure Index (GSCPI), a universal barometer to gauge the degree of stress on the global supply chain. And with their latest installment covering the month of May, they've announced the launch of the GSCPI as an official New York Fed research product that will be updated monthly.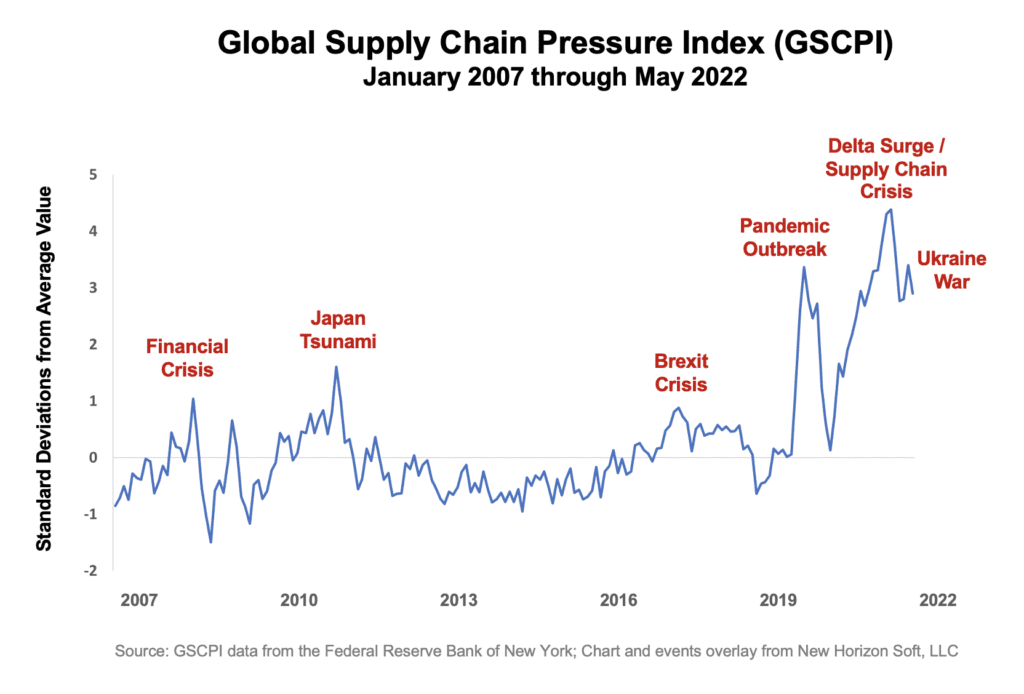 GSCPI: A Single Index Measuring End to End Supply Chain Stress
The index draws on over two dozen metrics reflecting global transportation costs and regional manufacturing surveys across 7 regions: the USA, China, the Euro area, Japan, the UK, South Korea, and Taiwan. While multiple metrics for monitoring different aspects of the supply chain have existed for years, the GSCPI is unique in that it provides a single measure of the end-to-end interconnected supply chain. The index provides policy makers, manufacturers, and others a barometer of supply chain conditions they can use for planning purposes.
In the above chart, I've plotted the New York Fed's GSCPI data and overlayed key global events to show how the index spiked in response. At New Horizon Soft, LLC, we plan to evaluate the use of the index as an input to artificial intelligence models to help companies better manage supply chain risk.
Where to Learn More
Going forward, the GSCPI will be updated by the New York Fed at 10AM Eastern Time on the fourth business day every month. For more details about the index, see their GSCPI page.
If you'd like to discuss how New Horizon can help your manufacturing, wholesale, retail, or foodservice company better manage supply chain risk, contact us – we'd love to talk.