Will Nation's Largest Supermarket Chain Leverage Digital Success to Shake Up Foodservice?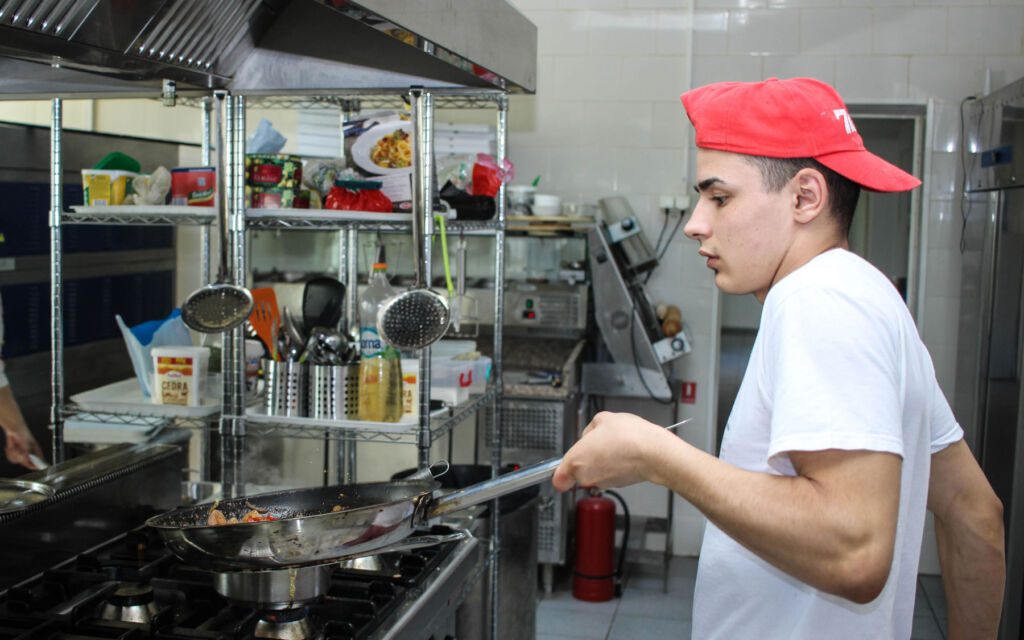 An Intriguing Development
It was intriguing to read last month that The Kroger Company, the nation's largest supermarket chain, with nearly $138 Billion in revenues, has launched a foodservice distribution business. Kroger Restaurant Supply opened for business on April 5 in the Dallas-Fort Worth area.
The supermarket industry has been on a rollercoaster ride during the last couple years, with grocery sales surging as the pandemic emptied restaurants. Supermarkets responded to consumers' fear of going to stores by accelerating their investments in online ordering. But as the pandemic appears to be behind us in the U.S., restaurant sales have largely recovered, supermarket sales are returning to pre-pandemic levels, and the growth of online ordering has reversed. This move by Kroger appears to be an attempt to leverage its online investments to increase its long-term growth prospects.
Part of a Battle for Share of Stomach
Supermarkets have been losing "share of stomach" (percent of consumers' total food expenditures) to restaurants and other foodservice options for decades, as American consumers have opted for the convenience and time-savings of meals prepared outside the home. "Food away from home" overtook "food at home" for the first time around 2010, as illustrated in the chart below. And while the trend briefly reversed during the pandemic, as shown in 2020, the expectation is that food away from home will resume its share growth going forward.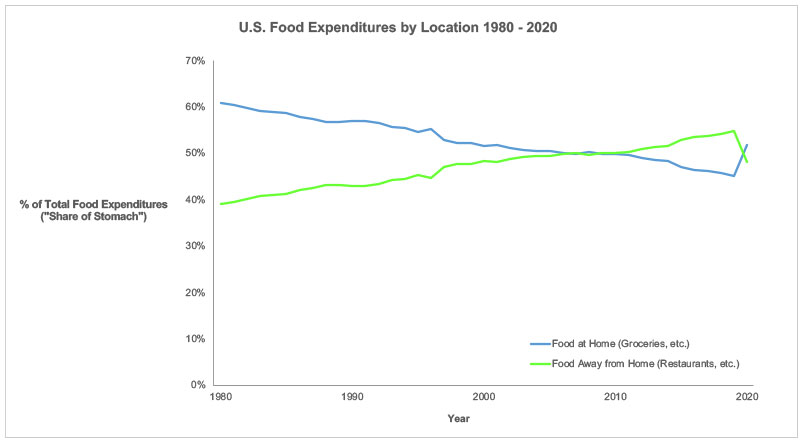 Thus it makes sense for a supermarket chain to want to enter the foodservice distribution business. After all, if they are in the business of procuring and distributing food, and consumers are spending more and more of their food dollar in foodservice establishments, why not distribute food to restaurants to meet the consumer where they are? Also, Kroger had been investing aggressively in its consumer ecommerce ordering and delivery capabilities, even before the pandemic. To the extent that their investment in IT systems and new customer fulfillment centers can be leveraged for foodservice distribution, it makes sense to expand into this new sales channel.
The Launch of Kroger Restaurant Supply
Kroger's new service went live on the day of the announcement, and it has been available in select zip codes in the Dallas-Fort Worth area. It is targeted at regional restaurants, bakeries, and catering companies, with free delivery for orders of $250 or more. Orders placed by midnight are delivered the next day. Kroger's press release states, "Kroger Restaurant Supply offers an alternative to ordering in large quantities that have highly variable pricing and require deliveries on a set schedule. This service offers competitive wholesale pricing, opportunities to purchase items by the case or unit and seven-day-a-week delivery." The service's home page states, "Kroger Restaurant Supply benefits businesses with a non-fluctuating price structure and next-day delivery of product. This allows smaller, more frequent orders that allow for flexibility that you won't find with other comparable food suppliers." These statements indicate that Kroger feels there is an unmet need among regional foodservice operators, and Kroger intends to fill this need with small order minimums, next day delivery, and more predictable pricing.
It's not clear at this time what Kroger's long-term expansion plans are for this business.
Are There Synergies Between Retail and Foodservice Distribution?
While Kroger's desire to expand into foodservice distribution is understandable, making this shift will not be so easy for a number of reasons:
Kroger will be distributing to independent businesses as opposed to its own stores. It will have to market and sell to these businesses in a different way from how it markets to consumers.
While Kroger Restaurant Supply will be offering many of the same food commodities it sells to consumers, the new business will be buying distinct foodservice-specific SKUs. It will also be procuring these items from supplier foodservice divisions as opposed to their retail divisions, or from entirely new suppliers.
Kroger's traditional operations deliver large orders in large trucks to a small number of sites. By contrast, Kroger Restaurant Supply will be using small trucks to deliver small orders to a large number of sites.
These and other differences between chain retail distribution and foodservice distribution suggest that the two business are more different than they at first appear. It's not then surprising that while there are a few distributors that distribute both to the retail and foodservice channels, for the most part these are distinct businesses. Companies such as McLane and Shamrock Foods that serve both channels typically have separate retail and foodservice divisions, suggesting that the synergies between the two channels are limited.
Building on Kroger's Ocado-Powered Online Shopping Business
Thus, at first glance, the logic of Kroger's push into foodservice looks questionable. But when you factor in their growing home delivery business, it starts to make more sense. First some background: Prior to the pandemic, home grocery shopping was not viewed as strategic by most of the traditional U.S. supermarket chains, which were happy to outsource it to third-party intermediaries such as Instacart. But unlike most supermarket chains, Kroger saw the strategic importance of home grocery shopping and the growing threat from the aggressive online moves of Wal-Mart and Amazon Fresh. Prior to the pandemic, Kroger arguably had the most ambitious home shopping business among major grocers. Its digital sales grew 29% during 2019 (the fiscal year ending February 1, 2020), far faster than the core store business. In 2020, the first year of the pandemic, Kroger's online sales grew by 116%, reportedly to over $10B, more than 7% of overall chain sales. They fell by only 3% in 2021 as the pandemic receded.
In 2018, Kroger announced plans to take its home shopping business to a new level. They formed a partnership with Ocado Group, the parent firm of the UK's Ocado.com, the world's largest pure-play home grocery shopping service. This partnership gave Kroger access to Ocado's online ordering and warehouse-based fulfillment technology. Kroger also announced plans to build 20 highly automated Customer Fulfillment Centers (CFCs) over the next few years, specifically for home shopping. These will be located all over the country, both in established Kroger markets and new markets. Three of these CFCs, each with about 375,000 square feet, are now live, in the Cincinnati, Orlando, and Atlanta metro areas, opening in April 2021, June 2021, and February 2022, respectively.
This investment represents a strategic commitment to home grocery shopping. While the up-front investment is much higher than for store-based fulfillment, dedicated home shopping warehouses offer much more efficient pick and pack operations. This is required to make this business scalable and profitable. And because the inventory is dedicated to home shopping, it removes the problems of out of stocks and poor-quality perishables that have plagued store-based home shopping, where pickers are competing for groceries with in-store shoppers.
The Kroger Restaurant Supply business has been described in trade articles as a pilot and is said to be operating out of an existing distribution center, not the new Ocado-powered Dallas CFC Kroger was reportedly planning to open in the spring of 2022. But given that Kroger is investing heavily in online ordering and delivery for consumers, one cannot help but think that their long-term plan may be to leverage this new infrastructure for the foodservice business as well. The foodservice business will of course have different needs and require modifications to its online consumer operations, but in many ways taking orders from restaurants has a lot more in common with a home shopping operation than with Kroger's traditional retail distribution business. For this reason, the launch of Kroger Restaurant Supply is all the more interesting.
A Bold Move to Increase Growth
The launch of Kroger Restaurant Supply is a bold move, and it will be interesting to see how the rollout proceeds. It is risky, but it could represent a brilliant strategy to leverage its digital investment and expand into the foodservice market. This could position Kroger very favorably, as the foodservice market is likely to resume outpacing the retail grocery business in sales growth as the pandemic recedes further. Stay tuned!
To Learn More
If you'd like to discuss how New Horizon can help your consumer products, wholesale, or foodservice company improve its supply chain operations, please contact us – we'd love to talk.